Earlier in 2010, I was inspired by an exhibition of the artistic work of
Carol Kleinman
, whose genre is impressionistic imagery using window reflections. Carol is part of the artist-driven
TAG Gallery
at Bergamot Station in Santa Monica.
This month, I visited the Los Angeles Natural History Museum, and in an exhibit on mammals, saw an opportunity to try my hand at the reflections technique that Carol uses.
What I saw seemed to meld both space and geological time, mammalian history and hard edges of glass and steel, and for the highest form of mammals, namely humans, to unwittingly be part of the unintended exhibit.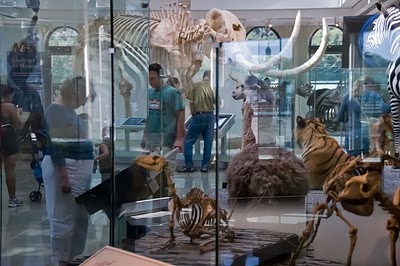 Mammal Exhibit (click for larger view)
Los Angeles Natural History Museum
In this image, I also used a technique I have been playing with in Lightroom, using extreme application of noise reduction, smoothing and sharpening.
The enclosed is the result. More intellectual than decorative, thus requiring the above explanation. Thanks, Carol for the inspiration.