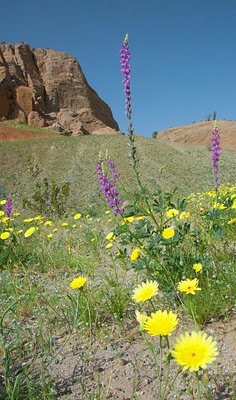 Two days last week were spent in the wonderful and colorful springtime desert of Anza Borrego. While just a short time there, it was a lifetime experience.
At left is just one tiny glimpse of the experience (this is Hawk Canyon). From hundreds of images, I will share only the best in posts over the weeks ahead.
View my 30 best wildflower images from the trip, or click on the link at right for my full flickr photostream.
While not the carpets of flowers I was expecting, it was a magical experience, and the variety of flowers and cactus amazing.
Choosing the best is a tough but joyous task! And it is much easier with a non-destructive editing program like Aperture or Lightroom. I use both, as each has features I like. For this series on flickr, I used Aperture 3.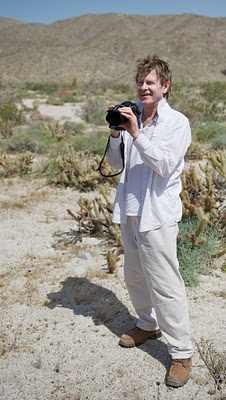 Getting out of LA and into the open air was a soul refresher for this country-born photographer. That's me amid the cactus with my trusty Nikon. Sometimes I crawled in the gravel and shot from all angles.
In a future post, I will share my story about being attacked by the infamous jumping cholla! The folklore is that pieces jump off and attach their spines to humans. It sure felt that way.
So stay tuned for other shots and stories of cactus, cholla, verbena, lupines, lilies, ocotillo, daisies, and more. Morning light, high noon, and dusk.