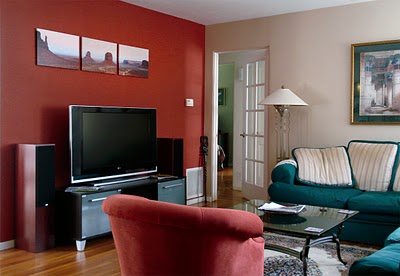 This final look for my Monument Valley triptych was created by accredited Interior Designer, Jane Dixon. The TV set was lowered on a media unit selected for the purpose. The wall was painted a carefully chosen color from the desert palette of the triptych.
Hanging a triptych requires much care in placement, since the channels between must be identical in size, and the top and bottom edges must be in perfect alignment. Fortunately,
Photomation
of Anaheim, who made the gallery wraps, did so with accurate placement of the hanging hooks.
If you would like to purchase your own signed gallery wrap triptych of this beautiful limited edition by Jim Everett, please email to:
art@jamesgordongallery.com