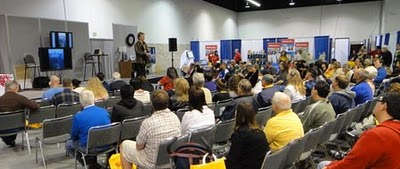 Southern California Photo Expo 2010 – February 20
A Photo Marketing Association event with PMA2010
Jim Everett presented two lively and engaging sessions
from the Visual Living stage on the Expo floor.
Key contributors:
Photomation
(Anaheim) –
Gallery wrap triptych
for showcase and
audience $100
gift certificate.
Great company to do business, innovative and creative solutions with and high quality products
The one and only
Adobe
for audience prize of Photoshop Elements.
SmileBooks
for 4 gift certificates of $100 for photo books.
I was very impressed with their service and exceptional quality of their products.
Congratulations to the winners, and thanks to all who attended.
NEW…
(outline script, with all key points)
Plus
Click each slide to advance (no audio – narration to be added later)
(movie file with no audio – narration to be added later)
The Southern California Photo Expo 2010 was open to the public. Exhibitors showed the latest services and materials. The Visual Living stage featured a series of engaging presentations by experts in their field, aimed at consumers who love photography.
In each of my sessions, I showed and discussed examples of my work, talked about how I see and approach subjects, choose the image I want from dozens, then use simple techniques to enhance and bring them to life. Whether people use a simple point-and-shoot camera, or a Digital SLR, I presented techniques and tips that apply to both.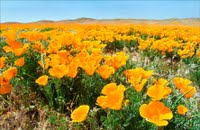 Express Your Inner Artist
12:00 noon, Saturday Feb 20


Showcase Nature's beauty,
so that people will say,
"What a beautiful image!"
1. What does your eye see, and what touches you?
2. What is artistic, or just pretty? Does it matter?
3. How can you make your pictures unique?
4. Simple ways to enhance images yet keep them real
5. Stretching the boundaries with artistic effects
6. Lose yourself and find creative joy at every step
7. Tips on using your art as cards, photo books or décor
________________________
Discover Your Digital Voice
4:00pm, Saturday Feb 20


Let your pictures tell a story,
so that people will say,
"That is an interesting picture!"
1. Does your picture tell its own story without words?
2. Who is the story for – family, interest group, public?
3. Tips to create interest, mystery, or record
4. Your genre – fun, urban, social, family, cultural?
5. Pictures that illustrate a story or journey
6. Opportunities in your own town or home
7. Tourist icons – show a different aspect