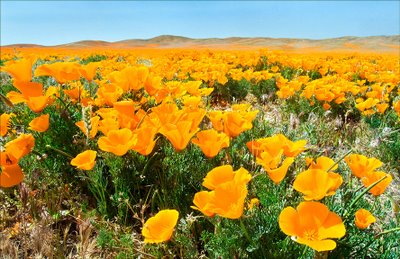 Photography of nature can be like fishing. Sometimes it is not so much about what you bring home (although that is a nice validation), but about the chance to step outside your day-to-day world and into a place of peace and nature.
And at this time of the year, wildflowers are close to many major cities and can be a destination for restoring your soul and gaining spiritual nourishment.
Find somewhere away from the crowds, get to a place where you can be alone. Lose yourself in the place and the beauty. The Visitor Center is a useful place for maps and advice. But if it is busy, it can really get in the way of your search for silence and solitude.
One of these areas is the Antelope Valley Poppy Reserve, north of Los Angeles, and between Lancaster and Interstate 5 Freeway.
Some time in 2102 I will write more about this subject and other areas that create solace and breathing room for the soul.