Slides & music iPhone podcast – several locations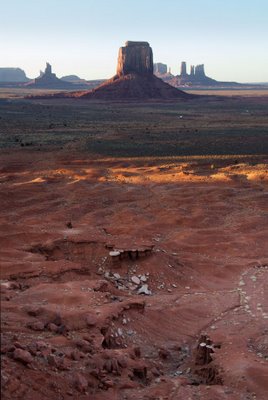 Last week, I traveled to beautiful spiritual areas in Arizona, and Navajo Nation. One was Monument Valley (Tsé Bii' Ndzisgaii).
At dawn and dusk, I had the privilege of speaking with Garry, a Navajo (Dineh) Spirit teacher, guide, teacher and filmmaker at Monument Valley.
My quest for years has been to explore whether beauty exists outside our capacity to appreciate and be enriched by it. Where lies the spirituality, the blessing, the gift, or however your beliefs reflect the joy of seeing things of beauty?
We talked for some time as I was taking the vertical image at right, from a viewpoint on the 17 mile drive, called "Artist Point".
By the way, if you look closely at the larger version of this image (click on it), you can make out a Navajo dwelling.
The following two images were taken at the same location, along the road out of the valley. I wanted to capture a different perspective, and one that reflected my experience at that time. I had stopped to capture a different perspective on the buttes, and was shooting between the barbed wire on a fence.
Since the buttes were so iconic, I figured that they could be out of focus with a large aperture, and still recognizable. That allowed me to focus sharply on the dead stump and the grass, which added more of an intimate story of the place.
I noticed that the sand below my feet (the result of millennia of erosion from around the buttes) was very silky fine. And on the sand were twigs and cactus, providing another intimate glimpse of this place. As you can see from the first of this pair, it was a misty day. The result of this was soft lighting on the second, with no harsh shadows.
In contrast with the theme of the two previous images, this busy panorama at right tries to gather many elements of the place into one image. I would be interested in your thoughts, and whether it works.
For more images of Monument Valley, and Canyon de Chelly (Tsegi), visit my Flickr page.