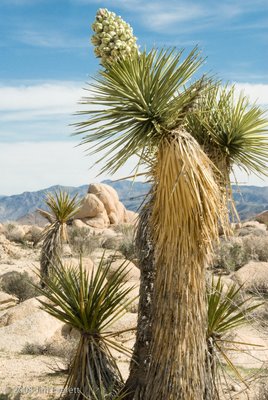 View slideshow (link at right)
Last week, I had the joy of a 2-day trip to California's Joshua Tree Nat'l Monument. I read the wildflowers were profuse, and joshua trees were starting to bloom. In the Park, some of the peak had passed.
But, hidden out behind the chloride plant (miles of white residue like snow, and earth mounds like miniature mountain chains), we found a fantastic display at a crater – wonderful wildflower carpets in the setting sun.
Overnight stay in Twenty Nine Palms was at the Harmony Motel, where U2 stayed to write the Joshua Tree album (you know the line – "high on a desert plain, where the streets have no name"). It was a great little place – simple and functional, but loaded with charm and character, with a view to the mountains.
Near the town of Joshua Tree, we drove out and experienced the Integratron (a huge sound and magnetic dome), where we took a "sound bath". This was quite an experience out in the middle of the desert. We pressed on over 4WD roads and found the "world's largest free-standing rock".
So check out my slideshow (link at right) of Joshua Tree wildflowers, the crater slopes and carpets of yellow, the giant rock (look for me in one of the shots), some joshua tree blooms.