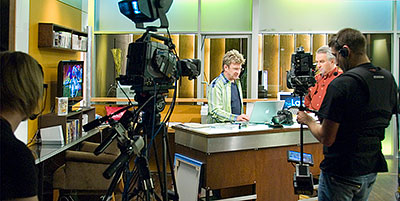 In October and November 2007, I had the opportunity to be a guest on three episodes of the TV Series,
"The Lab With Leo Laporte"
, on G4 Tech TV Canada, and the
How To Channel
in Australia.
Working with Leo on the set, I have to say what a great host he is – a true professional. He makes his guest look their best on his show, and quickly fills in gaps graciously from his breadth of expertise. Frankly, he's a tech guru who's on par with Tonight Show hosts (or better)!
The segments aired the same dates in Australia and Canada. Click on titles below to view an edited clip of just my segments on each show. They are high quality video, so you may need to wait a moment for them to buffer.
– Create Stunning Panoramas – Ep 92, Tues Oct 16 (11:40)
– Create Large Prints with Digital – Ep 95, Mon Oct 22 (11:35)
– Create Hi-Def Slideshows with Music – Ep 104, Nov 7 (10:46)
You need QuickTime installed on a PC, and may be asked to click-enable ActiveX.
Or click here to view the segments as Windows Media files.
The segments and the more detailed support notes (linked below each segment) are focused more on the art and craft of these, rather than the technical steps. However, there are tech tips, suggestions and products included.
~~~~~~~~~~~~~~~
Create Stunning Panoramas

Click on image to see larger version

View Opera House photo tip podcast (starts at this view)

Click here to view SUPER large pano (expandable)
(Use Firefox/Netscape/Safari – not IE)
Right-Click to Download (Control+Click)
Panoramas have always fascinated people. Early panoramas were made on cameras with very wide lenses, or lenses that moved and painted the image on the film.
These days, with digital photography, creating panoramas is much simpler. And the latest software automates the stitching process of blending a series of images together to create a much bigger single image. We're going to look at these automatic tools, some very inexpensive, and emphasize the art of taking the pictures so that the images are at their best for these tools to work with.
Why create a panorama?
– To create a total sense of horizontal expanse, such as a sweeping view
– To capture a very wide subject when you can't get back far enough
– To show a big picture that has close-up details
– To create a sense of being there, such as with a street scene
– To capture a very tall subject, with a vertical panorama
– Because it's fun and a really cool thing to do
On the linked page of full notes below, we will go into more depth on best techniques:
1. Key factors when capturing a panorama:
2. Choose subjects that will work well as a panorama:
3. Key techniques when taking a panorama:
4. Preparing to stitch the images to create a single panorama
5. Choosing your panorama software
6. Now for the stitching
7. Finally, practicing your new skill
~~~~~~~~~~~~~~~
Create Large Prints with Digital Images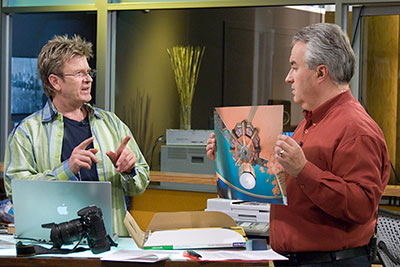 The latest digital cameras are packed with megapixels, and have sensors that provide very high resolution and quality. This means that it's possible now to make very large, high-quality prints from digital images.
There is a real art to printing, and it is about getting the exact colors you want, on a surface or material that suits the subject, and at the right size for what you want it to do.
Why make a large print?
– Posters for display
– Exhibiting and selling photo artwork
– Personal pieces for home decor
– Show a small subject in the context of a much larger image
– The overall subject needs a larger size to create the effect you want
On the linked page below are a few thoughts, tips and techniques on how you can get stunning large prints:
1. Determine print size
2. Calibrate your display
3. Reduce noise (digital grain)
4. Correct lens distortions
5. Correct perspective distortions
6. Enlarge image to print size
7. Sharpen the image
8. Print – choose best stock
9. Next steps – framing
View full notes on Large Prints
~~~~~~~~~~~~~~~
Create Hi-Def Slideshows with Music
More and more homes now have a flat-screen, high-definition TV, ranging from 15″ to a whopping 108″. A high-definition screen starts at 720dpi, or "lines" vertically. These screens display digital images with amazing clarity (definition) and colors in the millions.
Most digital still cameras, even inexpensive ones, take images with greater resolution (number of pixels) than even the highest resolution TV screen. It is now possible to use the high-definition flat screen TV to display your digital images bigger than ever – just like old vacation slideshows that put people to sleep.
This episode is about how to create interesting and compelling high-definition slideshows with accompanying music, for display on large screen TVs, to engage and impress people.
Why create a slide show set to music? Here are a few possible purposes.
– Share a defined experience of a place that you have been
– Tell a story in pictures, in a limited amount of time
– Bring out an emotional experience with a set of pictures
– Ensure a consistent and complete viewing experience for viewers
– Promote a place, service or product
– Record and share an event, such as a wedding or a performance
– Bring a set of images to life (family history, adventure, project)
– Just for creative expression
In the more detailed notes linked below, we will go over some essentials and what you need to consider to create a successful slideshow with synchronized music, that you can share as a final product.
1. Displaying high-definition images
2. Creating a DVD slide show
3. Creating the slideshow – fitting to music
4. Playing your slide show from a laptop or hard drive.
5. The art of composing a full experience
6. Sharing your slide show
~~~~~~~~~~~~~~~
Please click on the links to the full notes that interest you and, as always, let me know whether these notes have been helpful to you. And most of all – have some creative fun!