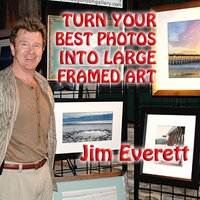 Frame Photographic Prints as Décor for Your Home
Download PDF version of my iTunes podcast on getting best results and décor impact with large photo prints and family photos as framed artwork. It covers choosing a subject, print size, paper surface or canvas, which glass to use, where to hang your work, working with framers.
Download PDF "Framed Décor Prints"
For the audio podcast, go to iTunes and enter "Digital Snapshots" in the search, or browse to Visual Arts.
Products recommended:
Edit your digital images: Adobe Photoshop CS3 or PS Elements
Boost image size: OnOne Genuine Fractals for CS3, or Essentials for Elements
Create Panoramas: Mac – Calico from Kekus; Win – CS3, Elements or PhotoStitch from Canon
Calibrate computer display – Huey by Pantone
There are other products that will do the same function, but these are the ones I prefer and use.