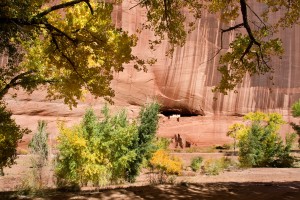 Photographers often plan special trips at special times to special places to get special images. Yosemite in spring for the waterfalls, fall colors in New England, Canyon de Chelly cliff dwelling in fall with the golden cottonwoods (as seen at left here). And these subjects can yield images that are spectacular in their own right. Nature has really provided the art.
And sometimes the most interesting images come when we least expect, of subjects we had not intended to capture. Of course, we may have to work on the image to bring up an artistic effect that would otherwise go unnoticed. And that is what this post is about – finding unusual subjects and creating art from them.
_____
On a trip to Carpinteria, just south of Santa Barbara, mid-2011, we went looking for the local wetlands as a possible source of interesting nature images. We found a locked gate. And there was an artist at work out in the wetlands. But we did not have a permit and could not get in there.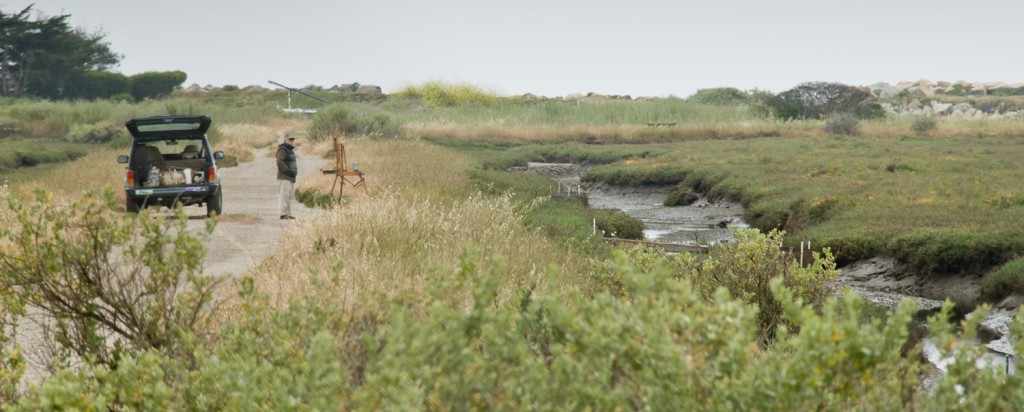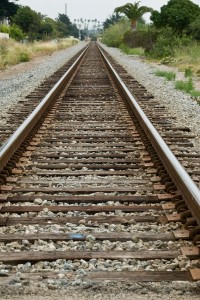 The Amtrak coastal rail track goes right past the town, and right beside the wetlands, as you can see to the right.
I stood on the line, looked back along it as it disappeared in perspective, wondering where we might go for some shots – the beach maybe?
Then I looked down at the lines, the weathered wooden ties, the rusted steel plates, the rivets driven in by hand, the gravel ballast, and the rail itself. Lots of interesting and contrasting textures all juxtaposed.
So I immediately saw an opportunity for experimental shots that I could harvest and work on later in Lightroom and Photoshop. All within a few yards, right on the tracks.
Please keep an eye out for trains…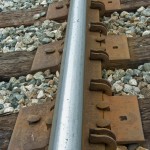 I took many shots of all different angles and framing. This shot at left shows the various elements I was working with.
There's gotta be a picture in here somewhere!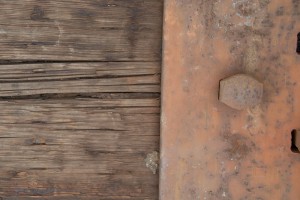 And later as I was playing with them all on my computer, this is one that seemed it could develop a feel and look of its own as I worked with it. It was so simple, very simple, and somewhat enigmatic.
That would work for me.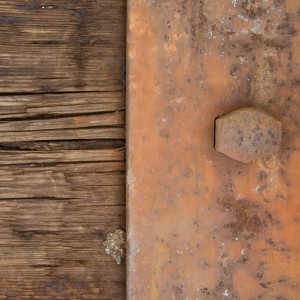 And it seemed to me that a square aspect would work best. No particular reason, it just seemed that way. I had been doing some work with 2 x 2 panels of textures in other subjects, and was kind of into the square. As it turned out it worked, and moved this image closer to the final result.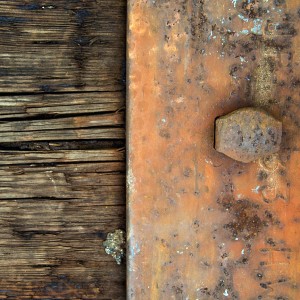 I enhanced and cropped it in Lightroom, then exported it to Photoshop where I punched it up further with levels, contrast and sharpness, to bring out more details.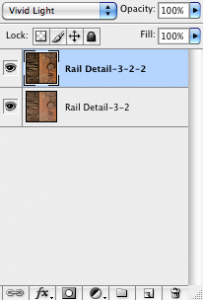 Now comes the interesting part, the creative flair, that gives the final image a look that is striking and unique. We duplicate that image as a layer and add very visible grain to that layer. Then we use the Blending Mode pop-up in Photoshop and try the effects of different modes. In the case I chose Vivid Light.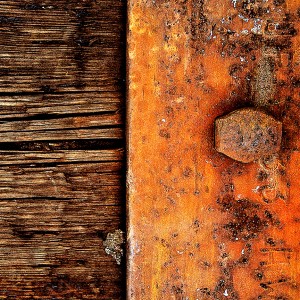 And that image on the right is the final result, which looks great printed out on Epson Velvet Fine Art Paper, at a size of 12″x12″. Click on the image to see it at this larger size.
When I frame it, I will use a broad white mat, a thin black double mat to give a distinct border, and a simple satin finish thin black wood frame. But I will choose a frame about an inch and a half deep, which will add to the dramatic depth of the framed décor piece.
An alternative would be a larger 20×20 gallery wrap on fine canvas, hung as is.