As a follow-on to my article on Photo Books in the April edition of the Member Magazine for Photo Marketing Association International, and iTunes podcast, I was interviewed for an article of story-telling and photographs in the June edition. You can read a copy of the article, "Tell Me a Story", by Jennifer Kruger.
Also, if you have not read it, two years ago on this blog, I posted an article, "Tell Family Stories with Photos" on the power of family stories and children's well-being and sense of self.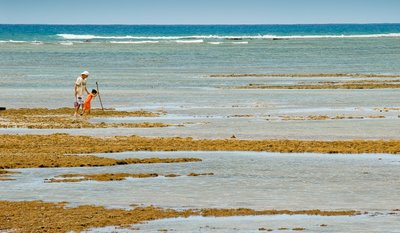 Father and son hunt for crabs – Oahu
I was taking a drive around the island, and stopped at a pleasant little area with a park, and some houses across the road. Not any spectacular  scenery by Hawaiian standards. But I did see this delightful moment where a father and his son were out looking for crabs for lunch at low tide. I photographed them, and waited until the came back to the shore, so I could meet them and get an OK to use the picture.
Now I wish I had taken some close-up portraits and pictures of the crabs, to complete the story. But, even so, the images I got do tell a nice story by themselves.